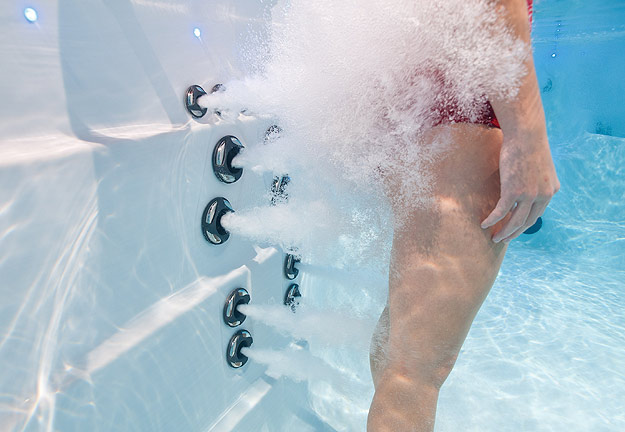 Whether your goal is to improve circulation, relieve pressure on your joints, soothe aching muscles, or simply melt away the tension and fatigue, we offer the most luxurious spa experience. Two powerful pumps give you complete control of the strength of the jets — from a gentle touch to maximum muscle-kneading force. And convenient steps allow you to enter and exit safely.

Experience the reverse molded StressRelief™ Neck and Shoulder Seat* featuring specially designed shoulder jets that apply tension-relieving massage where it's needed most, across the neck and shoulders.
Our exclusive Xtreme Therapy Seat is ergonomically designed to wrap you in comfort while delivering the ultimate in hydrothermal therapy. Likewise, the Xtreme Therapy Cove allows you to find the optimum position for a complete therapeutic massage for your lower back, hips, thighs and calves.
A unique pattern of jets provides complete coverage for your back, while additional jets focus on the hips, thighs, calves, arms, wrists, and hands. On the MP Momentum, the Master Blaster™ foot massage jets* deliver soothing relief to key pressure points for a truly full-body massage.
An optional stereo package, the Fusion Touch Sound System, with state-of-the-art surround sound speakers adds to the sensory experience. A beautiful waterfall enhances the overall therapy with soothing sound and color with standard LED lighting.
* StressRelief™ Neck and Shoulder Seat and Master Blaster are available only on the MP Momentum.