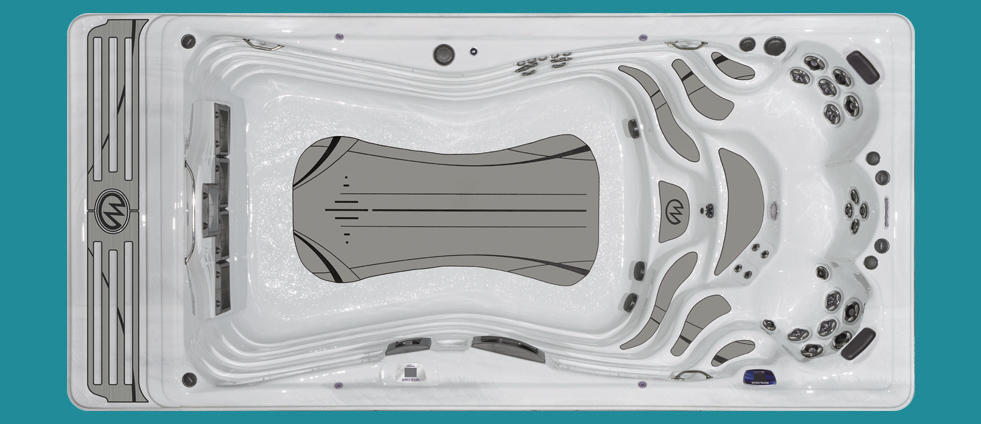 Shown with optional SoftTread™ & Fusion Touch Sound System.
MP Force
The MP Force, the shortest of the Michael Phelps swim spas, is almost 17' long, and was designed to meet a broad range of health and wellness needs. Ideal for swimming, aquatic fitness, therapy, and family fun.
Standard Features
Sleek, European-inspired styling allows for a smoother swimming experience than other swim spas
Wave Technology Propulsion System with adjustable controls
Rowing and Exercise Equipment
Deluxe Waterline LED Lighting
Stainless Steel Jets
The most energy efficient swim spa you can buy (requires only 50 amp electrical service)
Premium Options
Specifications for MP Force
Dimensions
201"x 94"x 51"
(510 cm x 239 cm x 130 cm)
Water Depth
3' 9" (114.3cm)
Water Capacity
1,660 Gallons (6,284 L)
Weight Dry/Full
2,490 lbs. (1,129 kg) / 17,075 lbs (7,745 kg)
Propulsion System
Wave Propulsion™ Technology
Power Requirement
50 Amp System
Pumps
2
Stainless Steel Jets
39
Water Features
5
Ozone System
Standard
Filtration
EcoPur®
LED Lights
Waterline
Premium Features
Wi-Fi Module, Noise Reduction System
Exclusive Accessories
SwimNumber App
H2Xercise System (Free with warranty registration)
Shell Colors


Skirting Options
DuraMaster™ II Ultra Poly Skirting


SoftTread is a trademark of Hyperform, Inc., dba SWIMDEK.

Fatal error: Uncaught Error: Call to a member function getReviews() on null in /michaelphelps.masterspas.eu/models-mp_force.php:156 Stack trace: #0 {main} thrown in /michaelphelps.masterspas.eu/models-mp_force.php on line 156