As remarkable as the Michael Phelps Signature Swim Spas by Master Spas are for swimming, fitness, and therapy, we designed them also to be the perfect backyard family and friends fun center.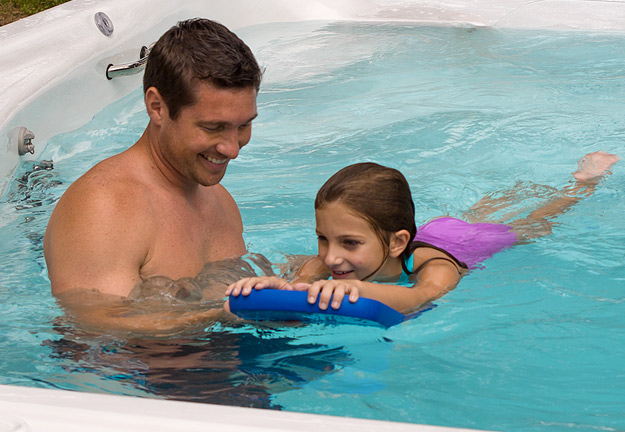 All Michael Phelps Signature Swim Spas by Master Spas swim and fitness spas are ideal for year-round enjoyment and learning. Children can learn how to swim for the very first time in a very safe and controlled environment where they feel comfortable and at ease. Installation takes only one day, but the enjoyment will last a lifetime!

We'll help you create the ideal backyard oasis, too! Enjoy standard waterfalls, LED lights and an optional high-end stereo system with Bluetooth technology with rich sounding speakers. This system even enables you to watch your favorite shows or movies through your iPad®! Ask your dealer about our waterproof iPad® case and heavy duty suction stand that lets you position your "cinema" anywhere in the spa.
A Michael Phelps Signature Swim Spa by Master Spas will make a dramatic difference in your home and in your family's well being. And today is the perfect day to choose your swim spa!