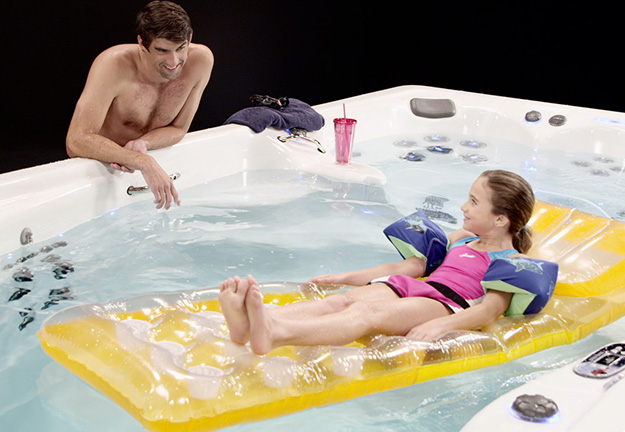 July 16, 2014
National commercial reminds consumers in a humorous way that they "don't have to be Michael Phelps to train like Michael Phelps".
Master Spas has announced the debut of a national television commercial featuring champion swimmer Michael Phelps.
The 60-second commercial, which promotes Michael Phelps Swim Spas by Master Spas, reminds consumers that they "don't have to be Michael Phelps to train like Michael Phelps." The commercial opens with Phelps doing his signature arm stretch, which is imitated by five swimmers of varying ages, in front of a Michael Phelps Signature Swim Spa by Master Spas. The hot tub function of the spa is demonstrated, before ending with a humorous moment between Phelps and a girl resting on a raft.

The Michael Phelps Signature Swim Spa line was specially designed by Master Spas with input from 18-time gold medalist Michael Phelps and his coach Bob Bowman. The swim spa allows users to enjoy the full-body effects of aquatic exercise in the privacy of their home. This innovation combines the energizing benefits of swimming, training and aquatic exercise into one revolutionary product.

According to Master Spas CEO Bob Lauter, the company wanted to produce a commercial that stood out. That's why they choose an award-winning team that has produced spots for many iconic brands.

"Our signature line of swim spas with Michael has been extremely popular and has helped draw in a new audience of consumers for our dealers," Lauter said. "This commercial highlights, in a fun way, that Michael Phelps Signature Swim Spas are designed for just about anyone, at any age or skill level and can be enjoyed year-round. The new commercial also allows viewers to see a glimpse of Michael's famous, fun loving sense of humor."

A great deal of time, energy and resources were invested in the production process. For example, the crew used a RED High-definition digital camera like the one employed in the making of "Oz the Great and Powerful."

The commercial is particularly timely, as Phelps returned to competitive swimming at the Arena Grand Prix Series meet in Mesa, Ariz. on April 24. Phelps continually placed in the top tier in the meets that followed in Charlotte, N.C. and Santa Clara, Calif., and won the 100-meter butterfly as well as the 100-meter backstroke at the Bulldog Grand Slam in Athens, GA.